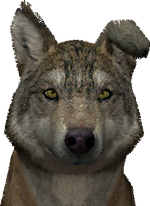 A
bent ear
is a visible deformation either from birth or sustained as an injury.
There are no events associated with this injury or deformation, but the option is available as a customization. It is a purely cosmetic customization which is displayed on the avatar's left ear.
Trivia
Wolf pups will have folded ears until they are four weeks old.

An adult wolf with one (or both) bent ear(s) may have been affected by a breeding mutation.

925M was noted to have had a kink in his right ear. Some sources note that his "charmingly askew" ear was floppy.[1]
References
Community content is available under
CC-BY-SA
unless otherwise noted.