For the friends and foes list, see WolfQuest Community#Friends and Foes.
The friends list (or buddy list) is a new feature introduced in version 2.7.
Players can add each other as friends by sending an invite. At present, there are only two ways to add other players to the friends list.
Phrase Chat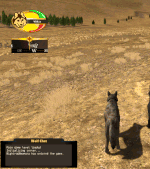 1) While playing a game in phrase chat mode, press C to bring up the chat menu.
2) Select 'Invite as Friend'.
3) Choose the player you'd like to add as a friend and select their name from the list.

Remember, the list is formatted as wolfname@username!

4) Click 'Send'. The game will then display the following notification in the chatbox:
| | | |
| --- | --- | --- |
| " | Player wolf name invites Target wolf name to be friends. Target wolf name, check your profile when you leave the game. | " |
5) Shortly after receiving this notification in the game window, a pop-up may appear, allowing the target player to either accept the request and add the player to their friends list, or block them. Alternatively, check the 'Account' menu.
Inviting via Account
1) While in-game, open the options menu by pressing the Esc key and select Account.
While on the main menu/splash screen, click Account.
2) Navigate to the 'Friends' tab.
3) Input the player's username if it is known; inputting their wolf name will not work.
4) Click 'Add as Friend'. The request will now require the recipient's approval.
Gallery
Trivia
References
Community content is available under
CC-BY-SA
unless otherwise noted.