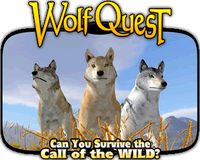 Welcome to the WolfQuest Wiki!
We currently have 10 active users and there have been a total of 39,848 edits.
This site is dedicated to sharing information and knowledge about WolfQuest, an educational and mostly realistic simulation designed to teach players about wolf ecology by putting them in the paws of a wild gray wolf. The main campaign is set in Yellowstone National Park. Development began in 2005 and it continues to be developed by Eduweb, and was formerly associated with and co-developed by the Minnesota Zoo, a partnership that lasted up until 2015.

We're a collaborative community Wikipedia about the game that anyone, including you, can build, revise, and expand. Wikis like this one depend on knowledgeable players and experienced community-goers getting involved and adding content. Please remember that we welcome people from all age groups, ethnicities, and cultures, however all contributors are reminded to to follow all rules -- both those we set and enforce as part of our own Wiki, and those established by site host Wikia/Fandom. Violations of either, or submitting content deemed unsuitable or irrelevant to this Wiki, will not be tolerated and could be subject to further action. Serious matters aside... please enjoy your stay!
About the Game
There are three separate revisions of the game.
References & External Links
Before you peruse our Fandom, we have some simple requests:
Do not edit, manipulate, or trace over our media assets for your own use.
Watermarks must not be removed or cropped out.
Seek permission for external use of media in accordance with file licensing.
It takes a lot of time, effort, playtesting, and research to make this resource possible. Consider linking back to articles and media sources to help support the WolfQuest Wiki Fandom!
Need help building out this community?
How is this game made? The game is developed in the Unity 3D engine.
How big is the development team? Pretty small! Eduweb is an educational indie developer based in the United States of America. Those employed by Eduweb to work on the WolfQuest Development Team are in varied locations across the globe!
Support the developers! As of 2014, players may donate through Fundly. Buying the game, its add-ons, the soundtrack or merchandise also go back into development, upkeep, assets and salaries, among others.
Community & Social Media Follow the game's development via its community and social media platforms!