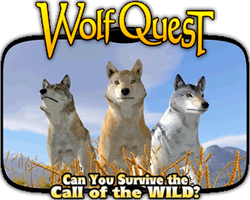 New pages
Welcome to the WolfQuest Wiki!
This site is dedicated to sharing information and knowledge about WolfQuest, an educational and mostly realistic game that is intended to teach players about wolf ecology by putting them in the paws of a wild gray wolf. Each episode is set in Yellowstone National Park. It was developed by Eduweb and Minnesota Zoo and debuted in October 2007 as a free demo.
We currently have 9 active users and there have been a total of 21,690 edits made to this Wiki.
Looking for the game? Get it here!
New to Wikia Fandom communities? Start here. Please read our policies before editing, commenting or uploading content. Thank you. Want to help us expand to as many languages as possible? Check out the translations article for more information.
What is WolfQuest?
"
WolfQuest is an immersive, 3D wildlife simulation game that lets players learn about wolf ecology by living the life of a wild wolf in Yellowstone National Park. Players play alone or with up to four friends in on-line multiplayer games. In Episode 1: Amethyst Mountain, players explore the wilderness, hunt elk, and encounter stranger wolves in a quest to find a mate. Episode 2: Slough Creek challenges players to find a den, establish a territory, raise pups and defend them from predators such as coyotes, grizzly bears and other stranger wolves.

Since its launch in late 2007, WolfQuest has received a number of awards including an Education Award from the Association of Zoos and Aquariums, a MUSE Award from the American Association of Museums, and the Editor's Choice Award by Children's Technology Review. It was also selected by the National Science Foundation to present at the 2009 Senate Education Technology Showcase in Washington D.C. WolfQuest has been downloaded by well over 500,000 people in over 200 countries. The online community forum currently has 300,000 registered users who have made over 1.5 million posts.

In 2009, a comprehensive summative evaluation run by the Institute for Learning Innovation showed that player interest in, connection to, and knowledge about wolves increased significantly after playing WolfQuest. Throughout the evaluation, WolfQuest was shown to be highly effective in achieving its goals and providing a rich and rewarding learning experience for the players. The Minnesota Zoo leads a national network of zoos and science education centers that promote WolfQuest through their websites including the International Wolf Center in Ely, Minnesota, Yellowstone National Park, Smithsonian National Zoological Park, Washington, D.C. Lincoln Park Zoo in Chicago, the Toronto Zoo, the California Wolf Center, the Knoxville Zoo, the Rosamond Gifford Park Zoo in New York, the Phoenix Zoo and the Wild Canid Survival and Research Center in Missouri.

"
Community
Main article: WolfQuest Community
WolfQuest offers an inviting and open community forum, where registered users can ask questions about and discuss wolves, the game, take part in various other activities, submit canid literature and artwork and interact with the development team. The forums are maintained around the clock daily by a dedicated and friendly community team.
Game Status
In 2014, Eduweb returned and began development on 2.7, a new and improved edition of WolfQuest with bug fixes, brand new content and revisions to existing content for a better experience. This was released in November 2015 and is available for purchase for $10 USD.
The old, free game was originally funded by grants from the National Science Foundation, Best Buy, and other foundations and donors and distributed as a free download for Mac and Windows computer. Funding ended in 2011 and the game ceased active development. To this day, 2.5.1 remains available as a free download, however development is now solely focused on 2.7; the old, free game last updated in late 2011 is no longer being developed nor updated. As of December 2015, lexicon chat mode was shut down and is no longer available.
News
August 2017 The Anniversary Edition has been officially announced! This will be a full revamp of the game, including a completely reworked codebase, expanded maps for episodes 1 and 2 (initially excluding Lost River), brand new wolf models for adults and pups, and much, much more! The current estimate for its launch is 2018. This update is set to be released as a free update for all customers who have purchased 2.7.

Check out the official Anniversary Edition teasers here.

January 2017: Development on episode three, which will be set within Tower Fall, has been officially announced! The current estimate for its launch is in 2018. This expansion is set to be released separately as paid DLC.

Check out the official Tower Fall expansion teasers here.
Wiki Activity
Poll
References & External Links
Community content is available under
CC-BY-SA
unless otherwise noted.