For affinity in multiplayer, see Pack Rally.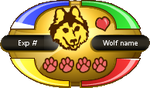 Pack Affinity
is represented by the blue bar in
Survival of the Pack
on the
HUD
. 
Episode 1
This mechanic was absent during the first episode.
Episode 2
During Slough Creek, it is the focus of mission two and increments as you make progress in training your pups to stay within the vicinity of your selected territory; feeding, interacting (2.7 only), carrying and depositing pups close to the den, and howling in full will also raise overall affinity.
Affinity is not to be confused with the yellow bar, which indicates the strength of territorial claim.
Pack Affinity is a requirement for completing the Train your Pups mission, though the player will still benefit if they continue their efforts to to maintain this meter. It's worth noting that the higher pack affinity is, the closer to home the pups will stay versus wandering farther away to become easier targets for trespassing predators. During the final mission, higher affinity will determine how close the pups stay to their parents en route to the rendezvous site.[1]
Episode 3
Unreleased content

This article or section contains information about upcoming content that has yet to be released. Some of the information presented may be inaccurate or subject to change.
It is not currently known if or how pack affinity will work during the third episode, let alone if it will be returning at all.
Trivia
There was a bug (referenced in the cheats article in the "Versions 2.0.X - 2.5.X" tabber, documented under "Bypass pup training") that allowed players to spam the howl action to rapidly increase pack affinity, making it possible to quickly and easily bypass the Train your Pups mission. While it can still be abused in 2.5.1, this bug was fixed during 2.7's development and can no longer be abused in newer releases.
References
↑ Official game manual, citing from page 8:
• Pack Affinity (top left): how well-trained your pups are, and thus how close they stay to the den, or to you during the Journey mission.
Community content is available under
CC-BY-SA
unless otherwise noted.