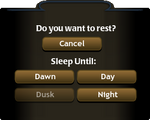 Time is a feature that was introduced following the updated version 2.5 and newer versions. It was a winning suggestion on the WolfQuest ideas thread.
[1]
[2]
Additions as of 2.5 include:
Time has no effect on NPC animals. During single player, the player chooses when time advances by pressing the Z key and selecting one of four different times of the day. Time can only be 'controlled' of sleeping. In multiplayer however, time can only be determined by the game host; sleeping is disabled, meaning time may only be defined once per session.
Amethyst Mountain
Slough Creek
References
Community content is available under
CC-BY-SA
unless otherwise noted.