A zone (or node) is a defined or marked area with which the player can enter to trigger specific events, such as hunting zones which will spawn prey or for interacting with other wolves, or as a means of transport to go from one location to another.
Instances
Instances or instanced locations offer a route to and from one place to another.
Cattle ranch
Main article: Cattle ranch
The cattle ranch is a single player exclusive instanced zone set somewhere just outside of the park. It can be accessed by following an icon on the compass depicting a fence with barbed wire (only after the pups have been born) which leads to a sloping clearing with few trees towards the edge of the game world on the northern side of the creek, found above the words Slough Creek on the map.
Inside this zone, a purple cloud acts as an exit portal back to the main Slough Creek game world.
Gateways
These only offer one-way transportation from one map to another.
Amethyst Mountain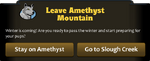 As of November 2015,
Amethyst Mountain
has one gateway. This will only become active
after
finding a
dispersal wolf
and bonding with it for it to become the player's
mate
.
This node can be found on the north-eastern side of the dry creek. Entering this zone will trigger a prompt for the player to migrate to Slough Creek. In the free trial edition, this interface lacks the migration prompt and will instead act as a teaser for the second episode.
Slough Creek
Placeholder for Slough Creek-to-Tower Fall.
Trivia
The cattle ranch was the first instanced zone introduced to WolfQuest as early as 2009, though it did not officially release until early 2010.
References
Community content is available under
CC-BY-SA
unless otherwise noted.